Located on the banks of river Sabarmati, the city of Gandhinagar prides itself on being one of the Three planned cities in India. Being the Capital city of Gujarat, it has a large number of tourist attractions, which are inclusive of a number of Holy Places in Gandhinagar that provide the depth Knowledge of the rich culture of Gujarat.
Here we make a list of popular Holy Places in Gandhinagar
Akshardham Temple
Akshardham Temple is an amalgam of religion, architecture, art, exhibitions, and research sprawling in about 23 acres of land. An intricate craftsmanship of over thousand artisans is reflected in the temple premises. Nearly 6000 tonnes of pink sandstones were used to make the main temple stand amidst the manicured lawns. The temple belongs to the Swaminarayan Sect where the worshipping sculpture is a gold-leafed statue of Lord Swaminarayan which stands about seven feet tall.The temple is an architectural masterpiece.
Mahudi Jain Temple Gandhinagar
The temple dedicated to Ghantakarna Mahavir, Mahudi Jain Temple is a Jain Pilgrimage. The temple is built in an area that extends around 2 kms in length. The artistic remains of the temple along with the idols that were excavated from the ground are about 2000 years old as inscribed in the Brahami Script written over them. The idol is considered to be a reincarnation of King Tungabhadra who was considered to be a protector of the needy and hence the idol has a bow and an arrow in the hands. The idol is also said to possess miraculous powers.
Tri Mandir
A stunning non-sectarian Tri Mandir Gandhinagar encouraged by Akram Vignani Pujya Dada Bhagwan has built at Adalaj on the borders of Gandhinagar. The followers of Pujya Dada Bhagwan from all across the globe gather to commemorate the Pran Pratishtha from 25th December to 29th December 2002.
famous-places-to-visit-in-gandhinagar
Hanuman Temple Gandhinagar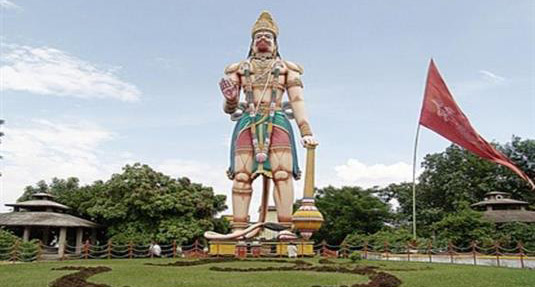 The Hanuman Temple Gandhinagar is, without doubt, one of the best religious places in Gandhinagar and dedicated to Hanuman who is believed to be powerful God. The Hanuman statue in this Hanuman Temple Gandhinagar is the Hanuman carrying a mountain on his shoulder. This Gandhinagar Temple, Hanuman Temple Gandhinagar is visited by countless devotees and travelers on Tuesdays and Saturdays. This Gandhinagar Temple, Hanuman Temple is situated in the heart of Gandhinagar city, at a suitable location which can be reached by any mode of transport.