The best places to celebrate the Festival of Colours in India really depends on what kind of experience you want to have in the festival. You'll find different types of activities taking place throughout India, but these activities range from traditional temple rituals to new generation parties with DJs, bhang, and blend of colors. See the list of these places where this festival is celebrated in totally different ways and find which place and type of Holi celebration appeal to you the most.
1. Barsana, Uttar Pradesh: Holi with Sticks
Lathmar Holi: In this celebration, The women of Barsana village near Mathura beat up men with sticks. Unfortunately, this event isn't recommended for solo female travellers due to the disgusting behavior of men, who continue to go around molesting women. Lathmar Holi takes place in the week before the main day of Holi. In 2019, it will be on March 15.
2. Vrindavan, Uttar Pradesh: Traditional Holi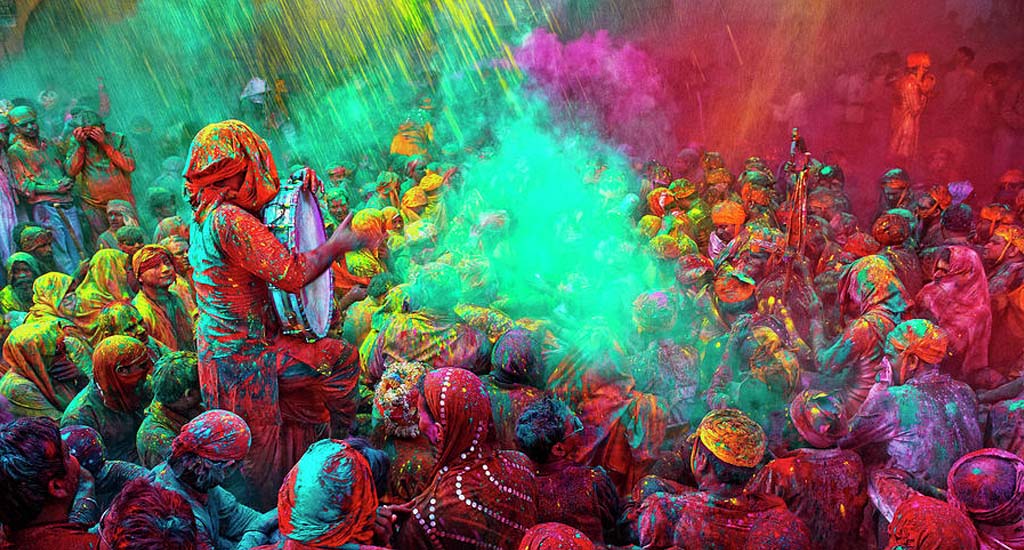 Holi celebrations get started on Vasant Panchami (end of winter), 40 days before the main Holi festival day, in the temple towns of Mathura and Vrindavan. Mathura is where Lord Krishna was born, while Vrindavan was where he spent his childhood. Sri Krishna Janmashtami in Mathura holds a renowned festival a week before Holi. A long week celebrations at Banke Bihari temple in Vrindavan are also popular with the throwing of colors in the morning on the day before Holi (March 20, 2019). The celebrations start with the throwing of flowers (Phoolon Wali Holi) at 4 p.m. on March 17, 2019. In the afternoon on March 20, head to Mathura for the colourful Holi celebration that starts from Vishram Ghat and finishes near Holi Gate.
3. Shantiniketan, West Bengal: Cultural Holi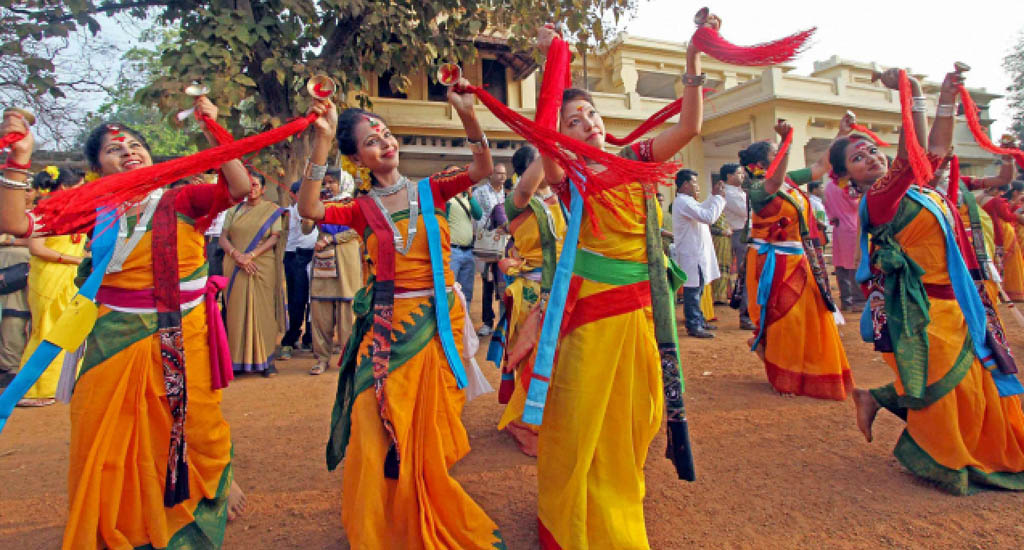 The celebration of Holi as a Spring Festival was originated by famous Bengali poet Rabindranath Tagore. He introduced the occasion as an annual event in his Vishva Bharati University. Students dress up in spring colors and put on a huge cultural program for visitors, including dances to Tagore's songs. This is followed by the usual throwing of colors. Basanta Utsav has become a admired part of Bengali history and culture, and it attracts thousands foreign tourists every year.
4. Purulia, West Bengal: Folk Holi
A three-day folk festival takes place in the Purulia district of West Bengal. You'll experience to sing and play Holi with the locals, as well as enjoy wide variations of unique folk arts. This includes the remarkable Chau dance, Darbari Jhumur, Natua dance, and songs of West Bengal's wandering Baul musicians. What makes the festival special is that it's organized by villagers as a way of helping sustain themselves.
5. Anandpur Sahib, Punjab: Warrior Holi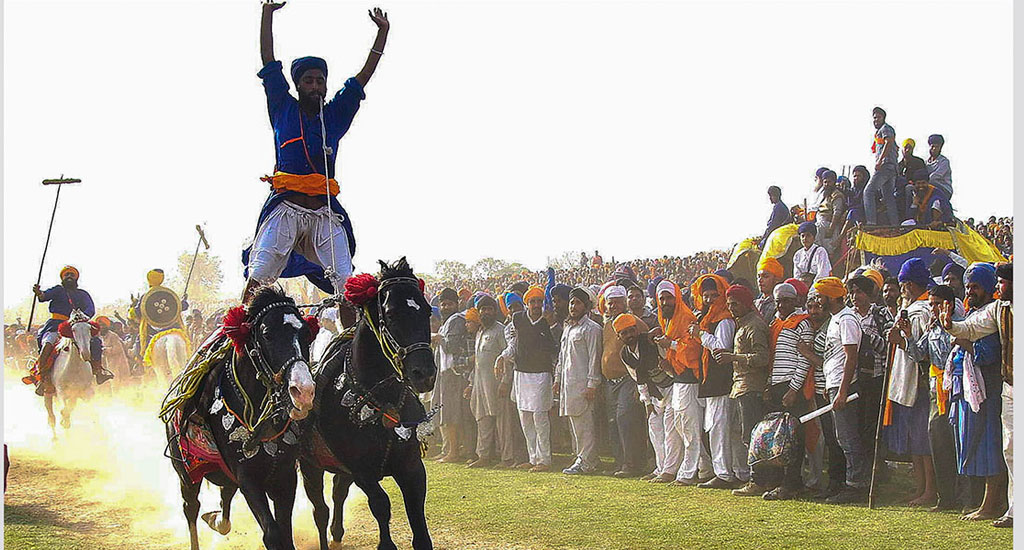 Experience Holi in Sikh way at Anandpur Sahib in Punjab. Holi festival known as Hola Mohalla in Sikh community, is an annual fair that dates all the way back to 1701. It was first organized by Sikh Guru Gobind Singh to celebrate Holi. However, instead of throwing colors, expect to see a demonstration of physical agility. There's wrestling, martial arts, mock sword fights, acrobatic military exercises, and turban tying.
6. Udaipur, Rajasthan: Royal Holi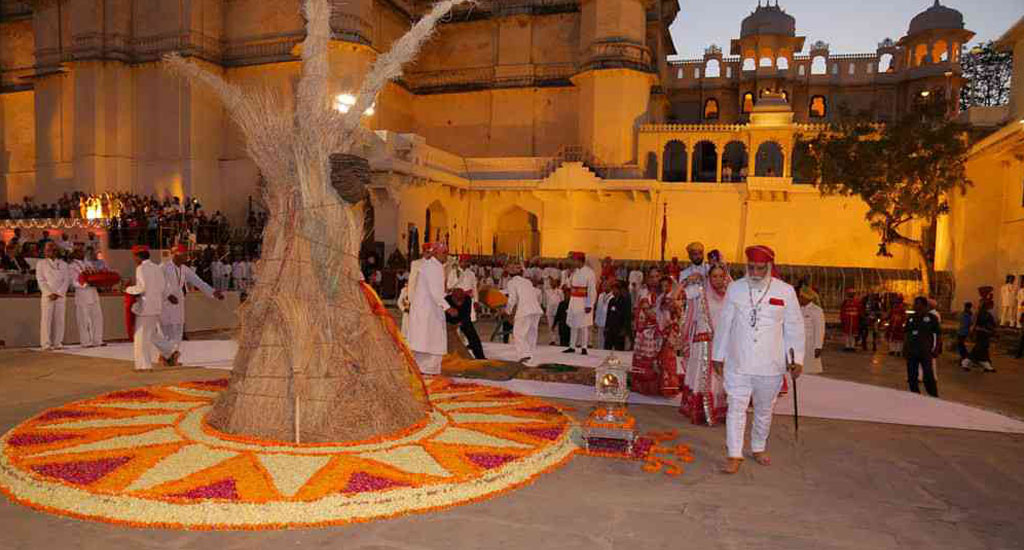 On the eve of Holi (March 20, 2019) people light bonfires to mark the occasion and ward of evil spirits in a ritual called holika dahan. For an unforgettable regal experience, join in the celebration of Udaipur's Mewar royal family. There will be a magnificent palace celebration from the royal residence to Manek Chowk at the City Palace, including bedecked horses and royal band. Later the traditional sacred fire will be lit and an effigy of Holika burnt.
7. Mumbai: Community Holi with Slum Children
Dharavi, Mumbai's largest slum area, is not the depressing place that you may thought about and specially on the ocasion of Holi festival. You will experience a fascinating and uplifting event of the slum, and then to a Holi party that they will be organized for the community at Dharavi. Join in and celebrate Holi with the locals in a safe and friendly environment, complete with colors and music.