Ajmer is situated in a picturesque valley surrounded by Aravalli hills. Rich in history, the city has seen various traditions ruling it and has monuments from all religions to prove it. Let us look at some temples to visit in Ajmer.
Nasiyan Ji Mandir
If you have an eye for detail, you should visit the Nasiyan Ji Mandir, which has excellently designed gold-plated figures of elephants and peacocks from Jain legendary to numerous continents of the world. This extravagantly established temple is the perfect place to interpret the primeval world from the Jains' perspective.
Nasiyan Jain Temple
Honestly, Jain temple is one of the best temples in Ajmer, Nasiyan Jain temple is a major Digambar Jain holy place in Ajmer. Also called Soniji Ki Nasiyan, Jain temple boasts of a stunning graceful-feel in its architecture. This temple is one of the great examples of traditional Jain-style architecture, It is a man-made gem, The actual threat to the eyes of the dedicated and the tourists. Devoted to Lord Adinath, the first Tirthankara of Jainism, Nasiyan Jain temple is built up with red sandstone. Valuable metals and sandstones have also been used extensively. The Jain temple is not just a famous religious place but is also a popular travelers attraction of Ajmer.
Nareli Jain Temple
Nareli is a popular Jain Temple, It is a comparatively new Jain temple situated on the boundary of Ajmer. The Temple is getting famous in most of the travelers for its an amazing structure and intricate stone carvings which give both contemporary and traditional look. The Temple is popularly known for wishes fulfilled and bringing affluence to life and is made of marble stone. The main temple has a huge symbol of Guru Adinath Ji on the 1st floor with 24 smaller temples of other Tirthankaras line up on the hills above. The view from the top is memorable and spectacular. The Temple is established by the marble giant Mr. Ashok Patni of RK Marbles in the Aravali hills.
Popular Forts to Visit in Ajmer
Rangji Temple Ajmer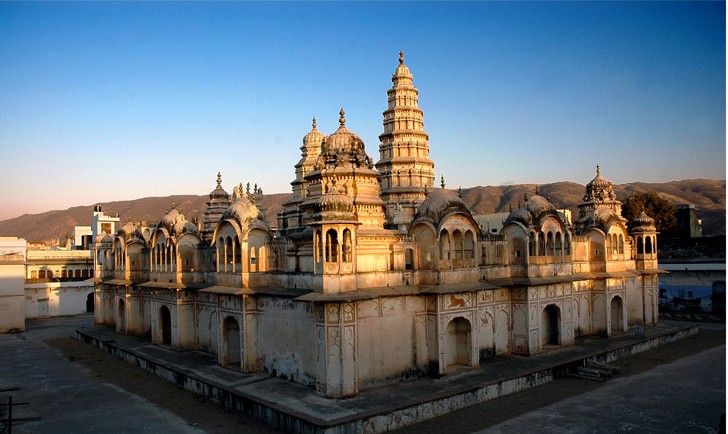 The ancient Rangji Temple was constructed in 1823 by Seth Puran Mal Ganeriwal of Hyderabad. The temple is popularly known as Shri Vaikunth Nath. Rangji temple has the effect South Indian style of architecture along with the Mughal and Rajput styles that are a more simple sight in Rajasthan.
Anted Ki Mata Temple

Anted Ki Mata Temple is the best place of worship for the followers of Jainism, that depicts the traditional culture of the Digambar Sect. The shrine houses a hung number of Chhatris and Chaburas. The cenotaphs have carvings, paintings and other sculptures which are symbolic of the culture and rich tradition of the Jain region. The festival of Raksha Bandhan is celebrated at the temple with much pomp and gaiety.