Description
If you are looking out for the much-required break from the daily chores of your life and bored of visiting the hilly terrain, we are pleased to bring to you this package that lets you explore Rajasthan in at your own pace in comfort and luxury. The sepia urbanism, royal palaces and forts topped with a warm hospitality waiting to welcome you, a trip to Jaipur is sure to help you break the monotony and treat yourself to a royal getaway.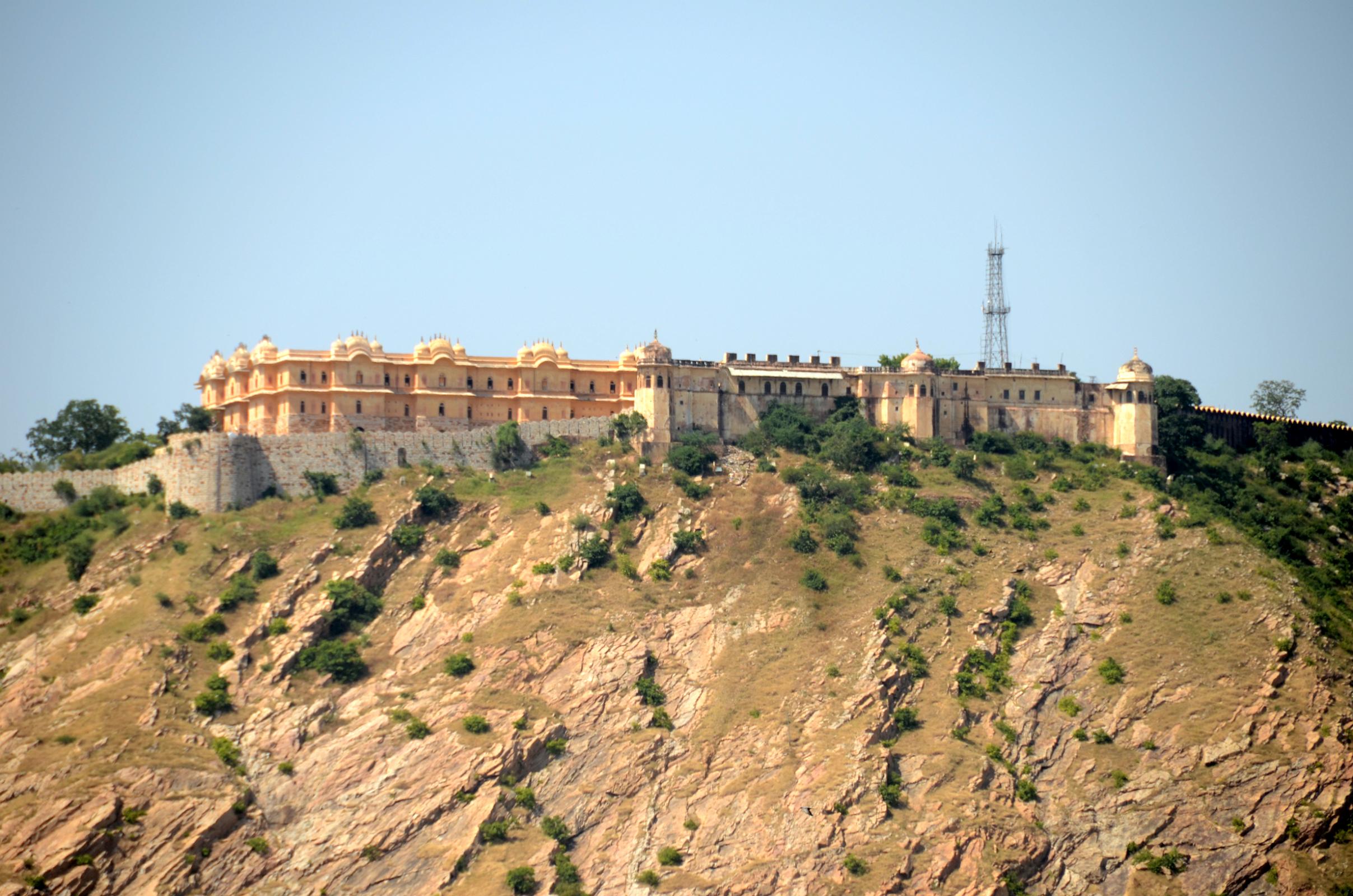 Inclusions:
oneway cab Delhi to jaipur
Accommodation for 2 Nights 3 Days
in a deluxe room in respective hotel.
Welcome drink (non-alcoholic) on arrival.
Cookies once in the room during stay
Daily Bed Tea /Coffee
10% discount on additional food bills.
Pick-up & Drop to resort
One day Local Sightseeing
In 1853, Jaipur's prosperous ruler King Sawai Man Singh got all city walls painted in pink to welcome the Prince of Wales, Edward VII. In the semi-desert lands of Rajasthan, Jaipur is the place for you if you are tired of frequenting hill stations in Northern India. A glorious past of Kings and palaces blended with a culture of pride and hospitality and topped up with a sepia urbanism, that's Jaipur for you!
Places to see
The list is always large. The time is often less. Therefore you must semi-plan your itinerary as you pack for Jaipur. Nevertheless, here are some personal recommendations we would like to give!
Let's begin with the best village in Jaipur, Chokhi Dhani. Spread over 10 acres, Chokhi Dhani (or Good Village) is an ethnic theme village, set up for tourists for both visiting and staying. The village is a 3-5 hour long engaging destination with the ethnic culture of Jaipur at its best. The best time to visit the village is around 4 or 5 in the evening. After a not so expensive ticket (including an unexplainably delicious dinner) you get to see a rustic and rural village with kiosks or performances including magic show, puppetry, archery, machaans, cots, Rajasthani dance, tarot reading, free Baajra ki Roti, camel ride, live ethnic music band, and countless other entertainment options.
Travel around till the evening hour and make sure you have enough appetite because the dinner (for which you paid with the entry ticket) is Rajasthani food served in traditional style (usually savoured while seated on the ground, but dining tables are also available) with various dishes, unlimited servings, and ready to serve traditionally clad staff! Food is perhaps the biggest attraction of Chowki Dhaani. Please note that the village also offers luxury ethnic resorts for night stay. It has royal cottages, haveli suites, multicuisine restaurants, banquet halls, spa, and barbeque among various other luxuries for tourists.
Next on a good itinerary should be the forts and palaces throughout the city. The most beauteous ones are Nahargarh Fort and Jaigarh Fort, two hill fortresses in proximity to each other. The fort of Amber, which was the former capital of Rajasthan, is a spending sight too.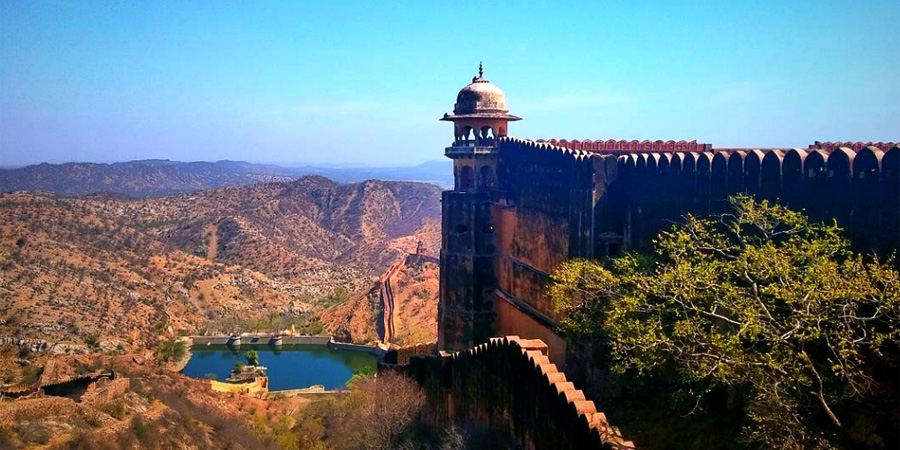 After these, some more places you may go for include Jaipur's famous Hawa Mahal, Jantar Mantar, Rambagh Palace, and Albert Hall Museum. All the forts have two things in common, a strong hint of Jaipur's glorious past and infrastructural marvels. Another beautiful must-see place is the Jal Mahal. You will find it if you enter Jaipur from Delhi's direction, a large lake and a solitary palace standing in its centre, with 4 floors submerged in the lake and one above water. The history and concept of Jal Mahal are enough to qualify it as a must-see place!
Strongly influenced by Rajput culture, Jaipur has some famous temples attracting tourists. Some of these are Birla temple in main city, Shila Devi Temple in Amber fort where Prasad includes alcohol, Govind Dev Ji Temple established by Jaipur's founder Maharaja Sawai Jai Singh II.
Places to Eat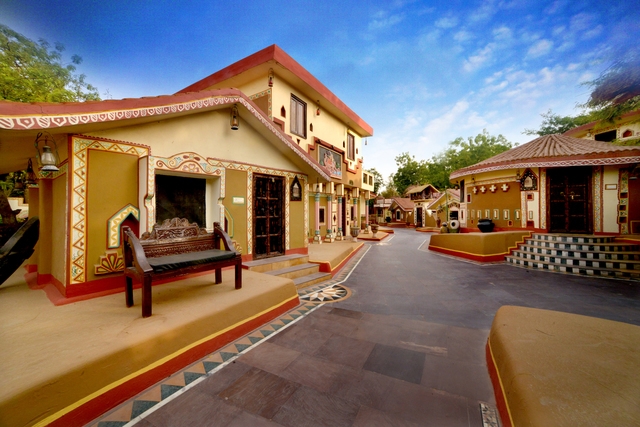 You already know the most famous food destination in Jaipur, the buffet at Chokhi Dhani! The next must stop is Rawat Mishthan Bhandar, colloquially called Rawat Kachori Wala. This is no restaurant but a spacious and clean halwai shop with Rajasthani Pyaaz Kachori, Sweet Mawa KAchori, and Malai Ghevar, among other delicacies. The city has a nice Saras Parlour (Saras is the milk cooperative of Jaipur) with milk products and other north Indian cuisines offered at low prices and amiable decor.
Things to Do
An elephant ride up to Amber Fort is an absolute must. It's an exhilarating experience to ride up along the cobbled path to the magnificent fort astride an equally majestic elephant. Also enjoy walks at the Central Park opposite Rambagh Palace in the heart of the city or better still go to Jal Mahal for a leisurely evening. Though once it looked quite dilapidated with the crumbling paint and algae covered waters surrounding it, today Jal.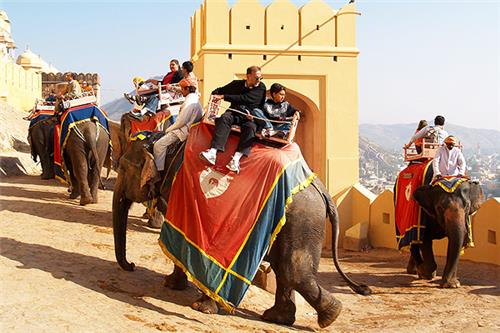 Mahal's former beauty has been restored after a refurbishment drive. The walkway along the periphery of the lake is ideal for evening walks when the serenity of the surroundings is interrupted only by a few street hawkers selling knick knacks here.
Another must-not-miss experience is to watch a polo match at the Rambagh Polo Ground. Even if there are no tournaments on, exhibition matches, as well as practice sessions, usually happen every evening between 4 pm and 6 pm. However, owing to Jaipur's bristling heat, no matches happen during summer months.
While all festivals are celebrated with immense enthusiasm, Gangaur (April) and Teej (July) are the major regional festivals that generate much fanfare in Jaipur. Both occasions see elaborate decorations and colourful processions on the streets of the old city.
Makar Sakranti (January 14) is another festival that brings Jaipur's colourful nature to the fore. Quite literally at that as the sky is spotted with kites of all colours, sizes and shapes! Diwali is another festival celebrated with much enthusiasm in Jaipur. The old city is lit up with colourful lights and there's a whiff of delicacies in the air.
An important event is the 10-day long Rajasthan Day Celebrations, held in February each year. It is a time when the state is commemorated and exhibits its majestic and varied cultures with dance, music, sports and rituals. It's a time to explore and indulge in the soul of Rajasthan, in essence and in spirit.
There are numerous places around Jaipur that you can visit as part of an extended tour of the area. Samode (42 km), famous for its havelis and handicrafts, is a heritage resort turned hotel that's worth a visit and even a night's stay if you have time to spare. Another such site is Jamwa Ramgarh (25 km) where a former hunting lodge of the royal family of Jaipur has been converted into a plush heritage hotel. It overlooks the Ramgarh Lakeand offers rambling walks to the temple of Jamwa Mata and the ruins of an old fort.
Also nearby is the holy town of Pushkar (170 km) which is worth a visit at least once. After that, you'll probably be compelled to travel there anyway as the town will leave you spellbound with its pristine beauty that prevails over the cacophony in its markets and at the lakeside ghats.
Shopping
Jaipur has so much to sell to so many people, and at low prices. Johari Bazaar, Bapu Bazaar, Nehru Bazaar, and Kishnapol Bazaar are the famous markets where national and international tourists get best deals on items like jewellery, ethnic clothes, accessories, souvenirs, Rajasthani arts and crafts, miniature paintings, marble statues, mirror work items, and other stationery & decorative items. Even if you are a non shopper, strolling through the local shopping markets, it is enough to fill your eyes with the rustic beauty of this city. Recently, Jaipur has seen a rise in various shopping malls and multiplexes, including the famous World Trade Park.

To sum it up, Jaipur must be visited for what it is, and for what it was. Plan it, and visit Jaipur and the first word you'll hear is khamaghani!