A serene a lake, a holy temple in the world and numerous ghats, this is Pushkar for you. Finding a place on the tourist map with foreigners flocking to seek spiritual bliss, Pushkar holds a vital religious significance for Hindus since it is believed to have the only temple dedicated to Lord Brahma, the God of Creation.
Situated in a valley with hills on three sides and sand dunes on the other, the town boasts of 400 temples and 52 bathing ghats, where the devotees immerse their bodies into the holy water of the Pushkar Lake to wash away the sins off their souls. Since 1980s, Pushkar has become a must-visit destination for foreigners visiting the country.
Inclusions:
oneway cab Delhi to Pushkar
Accommodation for 2 Nights 3 Days
in a deluxe room in respective hotel.
Welcome drink (non-alcoholic) on arrival.
Cookies once in the room during stay
Daily Bed Tea /Coffee
10% discount on additional food bills.
Pick-up & Drop to resort
One day Local and Ajmer sightseeing
Visit to Dargah-e-Shariff in Ajmer.
Places to see
Pushkar Fair: Held in the month of November, at the time of full moon, Pushkar fair is famous as the largest camel trading fair. During this time, the desert town wears a festive look as locals and tourists participate in friendly competitions including camel races, moustache twirling, and cricket matches.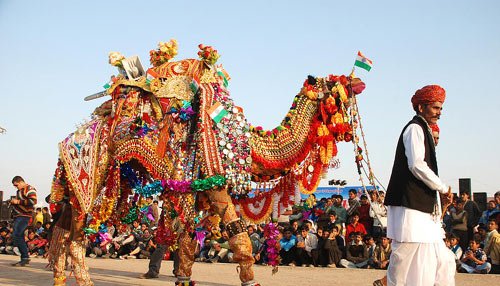 Pushkar Lake: Lined by numerous ghats, Pushkar Lake is considered very holy. The lake is laced by white buildings that create a very soothing effect with their reflection in the clear waters of the Lake.
Brahma Temple: This temple is the main attraction of town. It is believed to the only temple in the world to be dedicated to Lord Brahma, the creator of the universe as per Hindu mythology. A highly revered religious site, the temple is set right beside the holy Pushkar Lake.
Savitri Temple: Dedicated to Savitri, wife of Lord Brahma, the temple offers magnificent views of the Pushkar Lake and the town. Situated atop Ratnagiri Hill, it takes an hour to climb up to the temple.
Places to Eat
Pushkar is dotted with little eateries, cafes and bakery shops. With people visiting the town from across the world, Pushkar has imbibed varied influences and its cuisine reflects that quite clearly. From food from around the country to specialities from around the world, everything is available in Pushkar. Be it Mexican, Chinese, Mediterranean or regular Continental, you'll find it all. The most renowned restaurant in town is definitely the Pink Floyd Cafe.
Its lakeside setting makes for a perfect setting to enjoy a pleasant evening. Another cafe which has gained popularity is Honey & Spice. Tucked away on the first floor of a building off the main market lane, it is a quiet little eatery that serves sumptuous organic food and is quite easy on the pocket!