Day 01 – AIRPORT / NEGOMBO
Arrival at Colombo Airport. Meet, assist and leave for Negombo, In the afternoon leave on a city tour of Colombo.
Excursion to Chilaw, visit the Manavari Lingam Temple and Koneswaran Temple Overnight stay at your hotel.
Day 02 – NEGOMBO/ PINNAWELA/ KANDY
After breakfast drive to Kandy. En-route visit the Elephant orphanage in Pinnawela.
Arrive at your hotel commence Kandy city tour including a visit the Temple of the Tooth Relic of Buddha.
Eve Witness a traditional Kandyan Dance & Fire Walking Show. Overnight stay at your Hotel.
Day 03 – KANDY/ NUWARA ELIYA
After breakfast drive to Nuwara-eliya, en-route visit the Sri Baktha Hanuman temple at Ramboda and Gayathri peedam Temple.
Overnight stay at your hotel.
Day 04 – NUWARA ELIYA
Sightseeing tour of Nuwara Eliya. Visit a tea plantation and tea factory. Overnight stay at your hotel.
Day 05 – NUWARA ELIYA/ TISSAMAHARAMA
After breakfast leave for Kataragama en-route visit the Hakgala Botanical Gardens. Also visit the Seetha Amman Kovil and the Divurumpola Temple.
Visit the Kataragama Temple. Overnight stay at your hotel.
Day 06 – TISSAMAHARAMA/ COLOMBO
After breakfast drive to Colombo en-route pass by Dondra, Seenigama and Rumassala hill in Galle and Hikkaduwa.
Sightseeing tour of Colombo.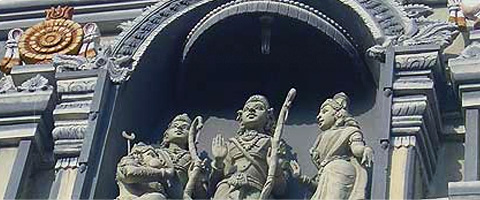 Best Season to visit Ramayanaya
Summer 2013 01/05/2013 to 31/10/2013 INDIAN MARKET
The Rates Quoted Are Based On The Following Terms & Conditions
Wildlife: There are 15 national parks in Sri Lanka maintained by the Department of Wild Life Conservation, totaling 8% (approximately 2,026 Sq. Miles/ 5,248 Sq. Km) of the Island?s total land area. In-fact it was the world?s first wildlife sanctuary in Mihintale which was established in 3rd century B.C. by the King Devanampiyatissa.
A population of 19 million + comprises a spectrum of different races, namely Sinhalese (74%), Indigenous and Indian Tamils (12.6% and 5% respectively),Moors and Malays (8%); and "Burghers and others" (0.4%)
Language: Sinhala and Tamil are considered the national languages. English is regarded as the link language and is widely used in business, banking, international trade and tourist oriented activities
Business Hours: Government offices are open from 0900 hrs to 1630 hrs from Monday to Friday and the private sector offices are usually open from 0830 hrs to 1730 hrs Monday to Friday. Some offices are open half a day on Saturday
Holidays: Each full moon day (Poya-day) of the month is a religious festival day for Buddhists and is declared as a government & mercantile holiday
Banking hours: 0900 –1500 (General) Monday to Friday with some banks operating longer hours
Currency: Sri Lankan Rupee – is divided into 100 cents. Coins are minted to the value of 0.25, 0.50, 1, 2, 5, 10 and notes come in 10, 20, 50, 100, 200, 500, 1,000 and 2,000 denominations
Voltage: 230 – 240 volts 50 cycles A.C.
Customs and Courtesies: Since Sri Lanka is predominately Buddhist, temples and images are held sacred. When visiting a temple or a Hindu shrine it is necessary to remove your shoes and headgear as a sign of respect. Women should be modestly dressed when visiting temples. It is best to refrain from wearing miniskirts, transparent blouses and shorts
All Rates are
In United States Dollars, Per Person on B/B Basis
Valid for travel from 01st May 2013 to 31st October 2013
All Transfers & Tours Include
Airport – Hotel – Airport Transfers
English speaking licensed driver / guide throughout the tour
All private transfers for mentioned City Tours & sightseeing
Hotel Accommodation on Twin /Double Sharing Room with Breakfast
Tour Excludes
Beverages, Portrages & Tips
Entrance Fees at Places of Interest (such as Parks, museums etc)
General
Minimum 2 adults to travel, and based on private touring
If a place of visit is closed to visitors, every effort will be made to replace with an alternative
During major events, accommodation may not be in the mentioned city
Sequence of itinerary is subject to change without prior notice, in the best interest
Amendments / cancellations etc., are subject to terms and conditions
Information is as per time of print and subject to change without notice
Please Note
The rates quoted above are based on the mentioned hotels.
The above rates are net and include government taxes (VAT, TDL & NBT) totaling to 15%.
These rates are subject to change without prior notice in the event government changes the tax policy, or if the hotels change their rates, or for situations beyond our control.
These rates are applicable for tour operators/travel agents working exclusively with us, in Sri Lanka.
Meal plan will be on booked basis.
Breakfast will start from the 2nd day.
Transportation by air-conditioned vehicle from Airport to Airport, as per the applicable itinerary.
In an unlikely event of a customer being dissatisfied over anything, it should be brought to our notice immediately for rectification. No post tour complaints will be considered.
Optional excursions and additional services could be provided for which we will charge additionally.





Visits to wild life parks, adventure activities, etc will be at client"s own risk.
Safari vehicles (none air-conditioned) available are very basic with basic insurance cover.
Payment by credit cards will be subject to 3% bank charges.
Cancellation charges (Sri Lanka)
Within 07 – 00 days – 100% cancellation charge.
Within 14 – 08 days – 75% cancellation charge.
Within 21-15 days – 50% cancellation charge.
If any advance payments are made to any hotels or other suppliers to reserve services, those will be added to the cancellation charges.
Hotel Confirmations
Due to prevailing situation, final confirmation of hotel/s will be subject to availability at the time of receiving the payment to our banking account. In the event of a hotel/s being full and a reservation is cancelled, we will re-book the hotel/s and confirmation will be subject to then availability. Alternatively we will arrange suitable accommodation. However no refunds or compensation will be considered in such events. This will also apply for last minute reservations.
Hotel Rules & Regulations
The official check-in time at all hotels will be 12.00 hrs
The official check-out time at all hotels will be 11.00 hrs
Early check- in / late check-out will be subject to availability at the discretion of the hotel?s management. However a request will be made where necessary.
Cancellation policy will be applicable for any reduction of allocated / blocked rooms, after the release period.
Visas
A tourist visa needs to be obtained for nationals other than Singapore & Maldives. The cost is approximately 20 USD, and could be obtained online. For further details, visit www.eta.gov.lk
Airport Tax
Cost of Airport tax is included to the flight ticket. However, this could differ for Charter flights.
Presently rooms are available as per the above itinerary. However we are not holding any rooms at the moment. Please do not hesitate to revert for any further clarifications for the same.
Location: between 5o 55? – 9o 50? north and 79o 42? – 81o 52? east
It's just: 435 Km from Point Pedro (North) to Dondra Head (South) and 225 Km from Colombo (West) to Point Sangamankanda (East)
A total of 65,610 Sq. Km (25,332 Sq. miles)
Over 1,125 Km of pristine palm-fringed shoreline where one can swim, surf, snorkel, sail or simply soak up the sun…
Sri Lanka enjoys a balmy tropical climate. In the North West coast temperatures occasionally rise to 100o F (38o C). The climate varies as you travel to the central highlands. The annual average temperature in Colombo is 80o F (27o C). The central highlands of Kandy have an average of 68o F (20o C) and an altitude of 488 meters or 1,600 feet, while Nuwara Eliya, high in the Central Highlands, has an average off to 61o F (16o C)